COVID-19 and the Importance of WASH for Businesses
Posted by

Date

May 20, 2020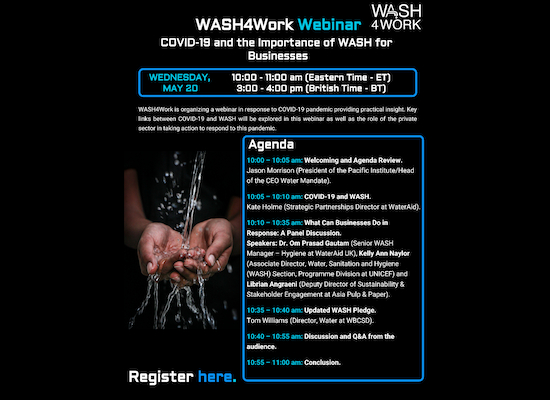 Context
The COVID-19 pandemic highlights the importance of good hygiene and clean water as the first line of defense against COVID-19, and other viral diseases. With large networks of influence, what responsibility do businesses have in contributing to this access, why is it equally a first line defense for operational resilience and how do we do it? This webinar will explore the key links between COVID-19, WASH, and the role that businesses can play to take action in response to this pandemic.
We have seen partners of WASH4Work respond to the pandemic by launching a number of new initiatives and projects. This webinar brings together companies and partners to share their experience in coping with such unexpected and unpredictable pandemic. We encourage companies and WASH colleagues to join this webinar, contribute to the conversation and share key learnings.
Read a blog post on the webinar from WASH4Work's Giuliana Chaves Moreira: https://ceowatermandate.org/posts/covid-19-importance-wash-businesses/
Download slides from the webinar here.